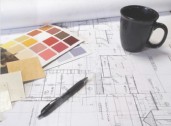 Decorating a home is the fun bit after the hard work of getting the 'bones' right by making sure the spaces are well designed so that they function and flow, the aspect and light is optimal and a furniture plan has been worked out.

Now we create atmoshere by dressing the spaces with colour, texture, furniture, window treatments, floor coverings, lighting, objets and artworks to turn your house (or apartment) into a home which and looks and feels exactly how you dreamed.
Maybe you have a somewhat tired home and just need a fresh new look for one or two rooms or need help with choosing some furniture or paint and colours.

Whatever you are looking for - our designers can give you as much or as little help as you need to make your home special for you, your family and of course your friends.

Colour
Here is an example our former studio where you can see what a difference colour on the wall and a rug can make!


| | | | | |
| --- | --- | --- | --- | --- |
| | | | | |
| Before colour | | Choosing colour | | After colour |
The Persian rugs have been kindly supplied by Bijan Exclusive Rugs of Northbridge and the wall painted by Greg of Crossing the Line
Putting a 'look' together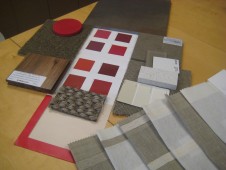 This is the fun bit!

Over a cup of coffee we can play with samples of tiles, colours, carpets, timber, blinds and more...
Rugs
Rugs like these can turn a house into a home.

We can help you choose and buy any kind of rug - modern or traditional,ready-made or custom made.
If you like traditional rugs like these it's well worth spending time learning about them from a good supplier like Bijan and gradually working out what appeals to you. It may be one big rug you need in a living area - or you can collect a few small ones for halls and alcoves and entries. You will need to have an idea of the colours that will suit your home then go looking until you fall in love!


Window Treatments
Window coverings are incredibly important from a design point of view because they have to be beautiful and practical and like everything else in a home, fit for purpose. We can advise you on whether you need blinds or shutters or curtains and can organize them to be made and installed by one of our excellent suppliers.
Furniture
We can help you with the layout of furniture and then to choose what you need. We may find you a stock item or we can have anything made exactly to your requirements - size, shape, colour and of course fabulous fabrics for chairs, sofas etc.