Designing Women and their work have been featured in many publications. We have included a selection for your interest.

Travel insurance for your renovating journey (Renovating Magazine)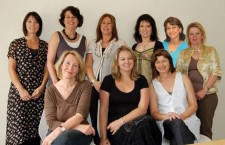 Whether you plan to build a new house, renovate an existing one, update a kitchen or bathroom or just give new life to a tired or unexciting home, there are things to think about, things to know about, things to do and things to avoid. So it pays to invest in a designer to guide you through the myriad of decisions you will face along the way.

Wrong decisions can be costly and disappointing so it's good to have someone on board who knows what you don't know that you don't know! You need to be able to make informed choices about products and design and to make sure your project proceeds as smoothly as possible.

Designing Women has been solving home design problems for over 17 years. Their team of leading designers understand what people actually do in their homes, what needs to be done to make them work and flow and how to make them look and feel just the way you want. They can help with the design of a whole new house or extension, create great kitchens and bathrooms, solve tricky space and storage problems, add light and colour and help you choose the right finishes, furniture, floors, window treatments and more.

You can have as much - or as little - help as you need, from a single consultation to drawing plans to champagne on completion.



Living with the past - full circle (Australian Kitchen Trends)
Old fashioned dressers, elaborate mouldings, antique paint finishes and soft colours - traditional and country style kitchens are always popular.
But their appeal goes well beyond surface considerations. One of the main reasons why home-owners install traditional style kitchens, in both modern and older homes, is because of what they represent.

This kitchen is in a restored fisherman's cottage, which one of the owners knew from her childhood.
"I used to hire rowboats form the man who owned the cottage," she says. "All my life I dreamed about retiring one day to the area where I grew up."
When the cottage went on the market for sale, it had been semi-derelict for years, but was protected by a heritage order. With assistance from architect Michael Dysart , and decorator Mickey Robertson, the owner set about renovating and extending the cottage in sympathetic period style.
Designer Vicki Poulter was brought in to work on the cabinetry throughout the house. The owner's brief for the kitchen was for a French Provincial style with hand painted cabinetry in French Blue.
"But it was my job to come up with a sympathetic design and layout that I knew she would love" says Poulter.
The Kitchen is formed from what was originally 2 small rooms, and it retains some of the cottage's quirkey character.
"They are both Francophiles and the cottage is full of well loved furnishings and accessores, so one of the tasks was to create a room where they could be displayed" says the designer.
Vicki worked closely with the owners to create the details and finishes including modern appliances, corian benchtops, and a marble topped central island with a glazed crackle paint finish and door door panels inset with chicken wire.


Suitably Chic (Home Beautiful)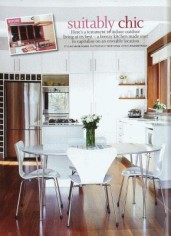 One hot summer's day, this kitchen and dining area is a serenely inviting space. Perched above a glistening bay , its vista, cool breeze and stylish milieu give it an irresistible pull, but it wasn't always such a drawcard. Formerly dark and dated, a peachy laminate, chunky timber benchtop and drab cork floor did nothing to disguise its 20 years.

To bring into the now, the owner enlisted interior designer Michelle Burton from Designing Women. Having lived in the space for four years, the owner knew what worked and what didn't--- the island bench was to stay on the list, replaced with spotted gum floorboards, a wood native of the area. Doors and window frames were pulled out and replaced with Western cedar red timber to create a natural link with the outdoors. New CaesarStone Nimbus benchtops and polyurethane cabinets from Mona Vale Kitchens, painted in Dulux Nougat, toe the same fresh line and create a kitchen as stunning as its surrounds.

The walls werw painted by Modern Colour, using a sponging technique, with a base colour of Dulux Hog Bristle and Dulux Colour Effects Terrazzo over the top.

But there's more than meets the eye to this clear design. Peek behind two tall cabinet doors and you'll find a surprisingly spacious walk-in pantry with staggered shelves to allow for an unrestricted view. Open the drawer by the sink and you;re in for another shock--- it's pull-out stainless-steel bin, the perfect height for easy access. The fridge also has its own nook, recessed into the cavity space with a wine rack running alongside to act as filler. "Michelle even measured the height of the Mixmaster and fitted shelves around it." says the owner.

Out of so many nifty features, which is the owner's favourite? It's the island bench with Miele cooktop, allowing her to prepare meals with the essentials close at hand. An ergonometric kitchen that look stylish to boot? It's sure to be on everyone's wish list.


Address flow and function first (Australian Kitchen Trends Magazine)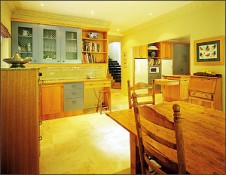 For a workable kitchen, Designing Women contends it's better to create the right living space first

When it's time to plan a new kitchen, it makes sense to consider it in the context of all the living spaces of the house.

Hazel Bambrick and Vicki Poulter of Designing Women, a space planning and design consultancy, specialise in finding creative solutions for living rooms, kitchens, bathrooms and laundries. They say it's essential to understand the people involved, and the feel and flow of the spaces as well as the importance of looking at the kitchen in context with other areas of the house - inside and out.

"Space planning is a priority. This includes looking at traffic flows and where to place furniture - something seldom looked at early enough in the process," says Bambrick.

"Our clients have often been thinking over their project for some time and are relieved to talk to women who understand their needs and address their problems. Then it can be fun, instead of a headache."
Designing Women emphasises good space planning as well as the finished look of a kitchen. This large kitchen has plenty of space, making it well suited to the needs of an active family. Granite and solid timber benchtops are attractive and practical. For added interest the kitchen has a combination of painted, patterned glass and timber cabinetry with fiddleback veneer inlays.
Hazel Bambrick and Vicki Poulter, the principals of Designing Women, are equally happy to design contemporary-style kitchens. Stainless steel benchtops in the kitchen featured here are complemented by gloss laminate and timber veneer cabinetry. This kitchen opens up into a large open-plan casual living space and an easily accessible outdoor area.

The two women help their clients make informed choices by encouraging them to become involved in the design process.

"We give clients time to plan and research, evaluate the options and change their mind a few times," says Poulter.

"At the end of the process, your home spaces will function, flow, feel and look exactly the way you want," they say.

Kitchens can be designed in any style from high-tech to hand-painted. At the studio, homeowners can compare materials and products and gather ideas and information. Services range from a "get started" consultation through to design, selection and installation, and designing by distance.


House Doctors (Sunday Telegraph)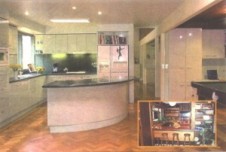 Planning, renovating or building can often entail months of confusion, stress and unforseen expense – whether the project be one room or an entire house. Many homeowners have great ideas but don't know how to process them let alone which products best suit their needs.

The ideal starting point for any home project is one where the consumer has seen all the products relevent to their needs, is informed, confident and dealing with practicioners they trust. To be in this position without having to drive all over Sydney seems an impossible dream.

"There is no point if a kitchen looks wonderful and doesn't work"
But that is exactly what Hazel Bambrick and Vicki Poulter envisaged when they established Designing women, an interior design and space planning consultancy.

The designers liken themselves to of "house doctors" whose aim is to turn the headache of building into a fun and successful experience.

The pair have spent nearly a decade producing creative solutions for kitchens, living areas, bathrooms and laundries – areas they see as the key spaces which can make or break the quality of life in a home.

"People shouldn't renovate without attending a pre-renovation class," says Bambrick who describes Designing Women as a "Jill of all trades" operation.

"It gives them the information to cope – if only with each other."

The Design and Resource studio is set up as a one stop shop where consumers can see, touch and compare myriad contemporary products, materials and finishes including storage solutions, benchtop and door finishes and paint colours.


We're selling choice" says Poulter. "We're designers who sell our time and expertise, not kitchens. People need service without being obligated to buy.

"We know the market place and where to get products which are often in remote areas."

The firm offers unbiased information and choice in a professional package which aims to create a living space which will both look good and work well.

They emphasise however, that there's more to the design process then choosing between laminate and granite or one handle and the next. Their design philosophy focuses on function, flow, feel and furniture before form and finishes.

"You've got to get dressed before you put your makeup on." Bambrick says. "We also find that few homeowners understand the complete picture. We show them how to key their builder into their situation and keep the project on track.

Bambrick and Poulter consult closely with clients and listen to their needs – often addressing problems they hadn't even considered.

It may be as simple as checking that drawers can be opened fully or as complex as planning for easy access to the bathroom or recognising that a planned extension makes parts of the original house redundant. " We can often turn the house upside down and change lives." says Poulter. According to Bambrick, space planning which includes traffic flow and and furniture placement in the context of the whole home is not widely understood. "It's about space, people and activity and the dynamics." she says.

"We look at the house like an ecosystem and plan rooms that work individually and together." Poulter adds.

"People often don't reallize what's wrong – they just know that they're uncomfortable." Says Bambrick. "they just live with it and never see any other way."

The designers offer consultation services that range from an ideas brainstorming session to planning a complete project and providing industry contacts.

They also offer a Design by Distance service for country clients.


Women Designers take a fresh approach to kitchen design (Australian Kitchen Trends)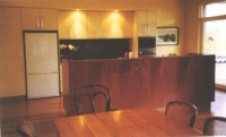 Ever sought the advice of a professional and felt like you were being talked at rather than talked with?

Well that definitely won't happen when you consult Vicki Poulter and Hazel Bambrick from Designing Women

That's because they're independent designers who'll listen to you every step of the way

These women know that by brainstorming, sharing ideas and giving you unbiased information, they can create a kitchen and living area perfectly suited to your needs.

"Each project is a problem solving exercise where the solutions evolve from a lively exchange of ideas with the client," say the principals of Designing Women.

"We give you time to plan and research, consider different options and ultimately to make informed decisions about products and design" they say

Designing women's service caters for those who simply want ideas and information. Or, if you wish, they can provide you with plans and liaise with cabinet makers, architects, and builders.

Designers Vicki Poulter (left) and Hazel Bambrick (right) consider the social function of what they call the "living kitchen". We are space planners, looking at the kitchen in relation to the house, not as a separate entity.

A Cook's Tour (Country Style Magazine)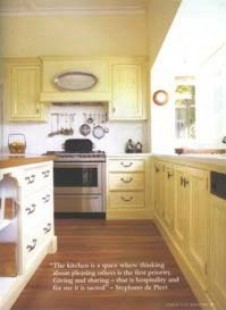 Cooking is so much more enjoyable in compatible environments like these, with attractive furnishings, plenty of light and room to rattle those pots and pans.


The owners of this house sought the expertise of Vicki Poulter from design consultancy Designing Women to help them create a kitchen that could be used and enjoyed by the whole family.

"As a family we tend to congregate in the kitchen all the time" says the owner. " I wanted a room where I could work comfortably and move without having three children at my feet. This space, with it's separate activity centres, works perfectly – I can prepare our meals while the rest of the family prepares their own snacks and drinks and makes use of the table and breakfast bar"

The cooking centre comes complete with Miele Combi Oven, which cleverly combines the features of a conventional fan-forced oven, microwave and grill. The benchtops are a combination of Hi Macs and recycled blackbutt timber and the cupboards are hand-painted hoop pine made by Knots of Character. The main cooking unit, an impressive St George oven, sits under a Qasair rangehood and the plain white tiled splashback houses a useful and accessible utensil rack. The integrated dishwasher , finished in the same Doric Cream pine as the cabinets, is by Miele and the fridge is by GE.

The generous kitchen provides space for the whole family – Mum, Dad and three kids – to be in there together without stepping on each other's feet.

(Photography by Andrew Lehmann and Samantha McAdam)


Mission Control (Sydney Morning Herald)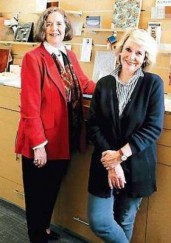 The kitchen is back in fashion as the centre of family life, as its heart and its brain.

I'm squinting at a recipe on the laptop screen while I chop onions and listen to a Test match commentary courtesy of that same laptop. My wife is leaning against the kitchen bench, glass of wine in hand, frowning at a sudoku puzzle. And the kids are drawing pictures and fighting over crayons at the other end of the bench.
This is real life in a real-life kitchen - chaotic, busy and full of activities involving a lot more than preparing and eating food. However, it's the kind of scene you'll never see in the glossy design magazines specialising in airbrushed "kitchen porn".
It's almost as if it's a slightly shameful secret that people like to hang out in kitchens and do things other than cooking.
"People flow like water," says kitchen designer Vicki Poulter of the interior design company, Designing Women (www.designingwomen.com.au). "You can't actually stop them doing what they feel natural doing. It's sort of a primeval thing to gather around the hearth. That hearth might be a stainless-steel, shmick-looking stove but it's still the cooking centre."
This has never more been the case than right now. Due to a combination of technology, better design and changing lifestyles and attitudes the kitchen is proudly reasserting its position at the heart of the home.
But it was not always thus: Australian kitchens have waxed and waned in size and importance over the years in response to changing social circumstances.
Kimberley Webber, senior curator of Australian history at the Powerhouse Museum, says it wasn't until the end of the 1800s that the concept of a separate kitchen was even recognised in most private houses, simply because cooking was not a particularly big deal.
"Cooking as a key domestic task only emerges towards the end of the 19th century," she says. "Up until then there were many more household chores that were much more important, particularly sewing and laundry.
"Preparing meals was quite simple because, with an open fire, the one-pot meal was the way to go."
About this time, many more women began staying at home rather than making a separate financial contribution to the household and the pressure was on for them to prove their worth.
"Food and cooking was seen as a way to keep men at home and out of the pub and, what's more, to keep them handing over the money," Webber says.

An Inner City Terrace House Raises Its Profile (Vogue Living)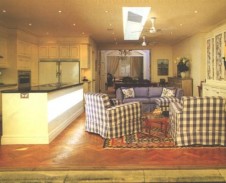 An Inner City Terrace House Raises Its Profile (Vogue Living)
To become an urbane home of light filled pleasures and spacious living.
The bones were right: the structure was sound. He fell in love with it, she was a little hesitant: a house in the city would take some getting used to. "Now," she laughs, I feel safe here because there's so much going on around us. In leafy Wahroonga I'd imagine people lurking behind the bushes"
The couple had spent considerable time playing around with ideas, poring over magazines and compiling information before involving interior designer Mickey Robertson and kitchen and bathroom designer Vicki Poulter. "they refined it all and made it happen"…

The rear of the house was opened up and extended to include a large family room and kitchen. Full height glazed doors open to the paved courtyard. Picture shows the view to the courtyard through the adjacent family room from the central dining room and formal sitting room at the street end of the house. The kitchen space to the right is cleverly unobtrusive, screened from the formal rooms until one is well inside the house.

(Story by Babette Hayes Photography by Rodney Weidland)


Makeover Kitchen: Open Minded (Notebook: Ideas for Living)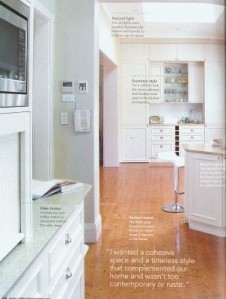 When a Sydney family wanted to transform an outdated kitchen and laundry into a multiple-purpose space, they called an interior designer. The end result is a functional, light-filled room with a fresh, timeless look that suits the older style of their home.

Before, dark and uninviting, the kitchen of this 1920s bungalow had dated cabinetry and little work space. The laundry was positioned in an alcove behind wooden bi-folds, and was a step down from the kitchen and family room. Both areas lacked unity and storage. As it was a large renovation, owner Ann Armstrong employed Michelle Burton of Designing Women to help her visually open up the space, introduce more light and incorporate built-in storage.

Using identical colours and materials for the laundry and kitchen links the two spaces. With Michelle's help, Ann chose classic Shaker-style doors and drawers with a hand-painted cream finish, and a biscuit-coloured CaesarStone benchtop. "I opted for netural shades instead of stark white to create warm, welcoming space," Ann explains.

Situated next to the doors that leads out to the garden, the laundry doubles as a bar area and features a built-in wine rack and a small bar fridge concealed in a cupboard. "When we entertain we fill the sink and ice, and we also use it to clean up after gardening. It's not the biggest laundry, but the good use of space means it has everything we need."

Fine Details (Belle Magazine)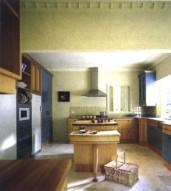 ...Separate preparation areas in this large kitchen were created to cater for the needs of a growing family.

The four daughters come home with friends and use their own food area leaving the main kitchen free for meal preparation. Cross cut stone floors link all areas.

With a client keen to use a variety of surfaces, designer Hazel Bambrick of designing women focused on a variety of finely detailed, multi-surfaced and multi-levelled work zones to create a space in harmony with the adjoining areas....



Belle Magazine Photo by Rodney Weidland Produced by Babette Hayes



POINT BLANC (Inside Out Lifestyle Issue Vol.2 No.1)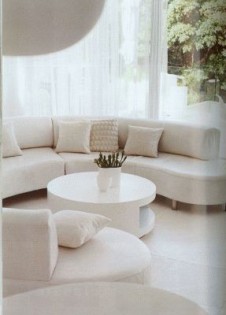 An uncompromising approach, attention to detail and a limited colour palette have come together to create a unique and tranquil family home designed by our very own interior designer, Louise Sullivan.

'White colour scheme' and 'practicality' are words rarely used in the same sentence, but Melissah Lloyd and Wayne Cleveland see no reason why they shouldn't be. While many people shy away from pale neutral interiors, especially when children are added into the mix, this couple embraced the idea. "We wanted to create a serene, flowing and homogeneous space, says Melissah. "Using shades of white gave us that tranquil and sensuous feel."

When it was time to redesign the house, lifestyle was at the forefront of all decisions. The house is located in one of Sydney's beachside suburbs, so Melissah and Wayne wanted their home to have a holiday feel all year round and this was achieved through the use of sliding doors that open to a large balcony.

Although the couple had very clear plans before they embarked on he renovation, they enlisted the help of interior designer Louise Sullivan fron Designing Women to turn their ideas into reality. "We were incredibly specific on what we wanted," says Melissah. "I combined information and images of all of our ideas and inspirations for every category. We then talked through our needs with Louise, who drew up plans and offered her expertise."

Despite the potentially clinical and cold colour palette, the house has an understated and livable feel thanks to the smooth surfaces, curved edges and subtle textured materials. "I wanted the space to flow and be as seamless as possible," says Melissah. This included removing all architraves and skirting boards, and opting for large expanses of flooring, such as polished concrete downstairs and large limestone tiles upstairs.

Melissah attributes part of the success of the project to the limited number of colours and materials they used. "If we liked an idea, we used it throughout the house, which helps the space flow and makes every room relate to each other," she explains. For example, the kitchen benchtops are made of the same material and thickness as the dining table and bathrooms vanity units, and the flat fronted kitchen cabinetry is carried through to the bedroom and study.

Quality was also a major consideration. "As the kids are the focus of our lives, everything had to be child-friendly," says Melissah. "We opted for sturdy, good quality fittings and materials, which has been worthwhile as they haven't yet chipped or cracked. After living here for almost 18 months, everything still looks pristine."

The attention of detail is impeccable, with everything from the chunky taps to the integrated appliances being inexhaustibly researched. The couple also took advantage of the high-tech features, such as a bath that automatically fills to a specific depth and temperature.

After being involved in every decision during the planning stages, Melissah made sure she was on hand to oversee the project. "Everyone passes the buck if things go wrong," she says, "so I wanted to be as involved as possible. It also gives you the opportunity to sort out problems before it's too late."

If there's one thing the couple has learned from their ambitious renovating endeavour, it's not to give up. "Poeple will tell you that things can't be done, but put in the research and try not to compromise," says Melissah. "Anything is possible, and it's true when people say that it's worth all the effort in the end."

As to the question of whether you can have a white house with four children, for Melissah the answer is a rounding yes. "Our family still say, 'You have to be kidding' when they visit," she admits, "but it suits us. We'll definitely be sticking to a neutral palette next time."


1. The Designers (House & Garden Magazine)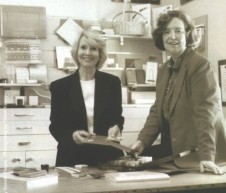 Vicki Poulter and Hazel Bambrick of the Sydney design firm call themselves "house doctors" ". We want to take the pain out of the process of renovating, planning and designing a kitchen, bathroom or laundry" says Hazel. "We want our clients to have a hassle-free, positive and well informed experience of renovating and decorating."


When it comes to designing, extending, reorganising or renovating, the Designing Women prescribe some careful research before making any decisions. "People should attend pre-renovating classes" jokes Hazel, "like they do pre-natal classes. They need to be aware of all the options that are available so they can make the right choices and arrive at the best outcome." With good information, Hazel believes that a homeowner is better equipped to understand the concept of how space can work.

KNOWLEDGE IS POWER
Vicki and Hazel established their business because they had a vision – they wanted to provide a complete design resource centre where clients could come for a hands-on experience. "People come to our studio to be educated about the choices available in kitchen and bathroom design." says Vicki. "For example, if we are renovating a client's kitchen we would pull out a range of benchtop surfaces, line them up in front of us and work out which one is going to best suit the needs of the client." Homeowners and design professionals with their clients, come to the resource centre to meet the designers and work together in planning a successful design. With their extensive picture library and their and range of sample products, the two women are able to demonstrate the merits and pitfalls of many kitchen or bathroom components – from drawer runners, laundry baskets and storage units to benchtop surfaces, appliances, attics and conservatories.

Just like a good architect or builder, a good designer can take the headache out of renovating and produce a space that works. Designers can come to you, you can bring plans to the studio, or their Design by Distance service allows them to work with you via phone, fax, mail and email to come up with a design that suits your needs.

KEY POINTS
Do some research before you enlist a designer?
Formulate ideas of what you're after and collect pictures of designs you like.
A designer can help not only with spacial or structural renovation but with ideas for furnishings, surfaces, appliances and flooring.

(Story by Babette Hayes, photo by Simon Kenny